The I-SNP is designed for eligible Medicare enrollees
who reside in a long-term care facility.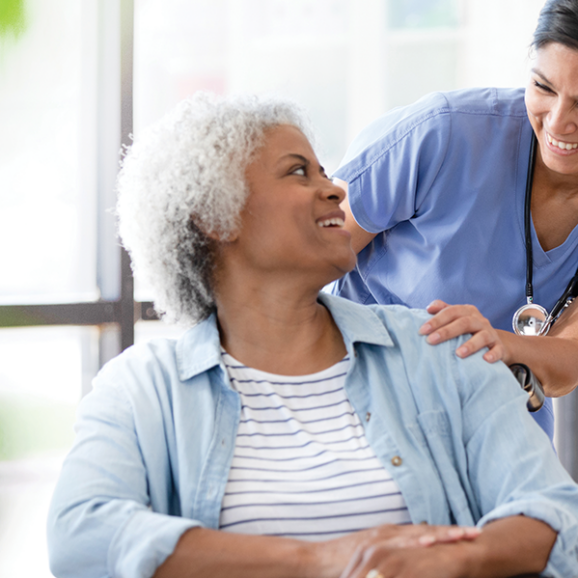 Simply put, the I-SNP is an all-inclusive plan that replaces traditional Medicare. It covers:
Inpatient care (Part A)

Outpatient and primary care (Part B)

Supplemental benefits including vision, dental, hearing, etc. (Part C)

Prescription drugs (Part D)
An onsite focus on preventative care.
With an I-SNP, facilities are provided with an onsite Nurse Practitioner and RN Care Coordinator to:
Improve outcomes

Prevent unnecessary hospitalizations

Reduce costs
This team coordinates all aspects of care, collaborating with residents, families, physicians, and hospitals, depending on a resident's needs. Sophisticated technology and electronically tracked medical records provide up-to-the-minute information on each resident, helping the care team catch health issues early on.
Here again, the I-SNP is a tech-enabled, value-based model, designed to mitigate illnesses and prevent unneccesary hospital stays.
Nurse Practitioner:
Completes Annual Health Risk Assessment (HRA) to establish goals and improve health outcomes
Onsite visits and available on call 24/7 to provide continuity of care
Coordinates care with the members PCP, facility, and the interdisciplinary care team (ICT)
Provides chronic disease management, addresses polypharmacy and goals of care
Identifies, anticipates, and treats acute changes in condition
Provides education to the facility and all members of the ICT to improve quality of care and outcomes
RN Care Coordinator:
Rounds on assigned members to identify and escalate member changes in condition to the Primary Care Physician (PCP), Nurse Practitioner and facility to avoid unplanned transfers
Coordinating integrated care plan development, including collaboration with nursing staff, leadership, as well as the entire ICT according to the Provider Partners Health Plans Model of Care
Coordination of care needs such as transitions of care, prior authorization and skilling needs
Assists in development and deployment of education to nursing facility and members
Ensures members receive all necessary, preventative care and medication reviews to promote wellness and improved outcomes
In short, the I-SNP is better for everyone.
Provide a higher standard of care. Residents won't need to be hospitalized as often. Families and physicians will be kept up to date on residents' care.
And unlike other I-SNPs, the facility shares in 100% of the revenue gained by lowering the cost of care.
Ask how I-SNP can help.